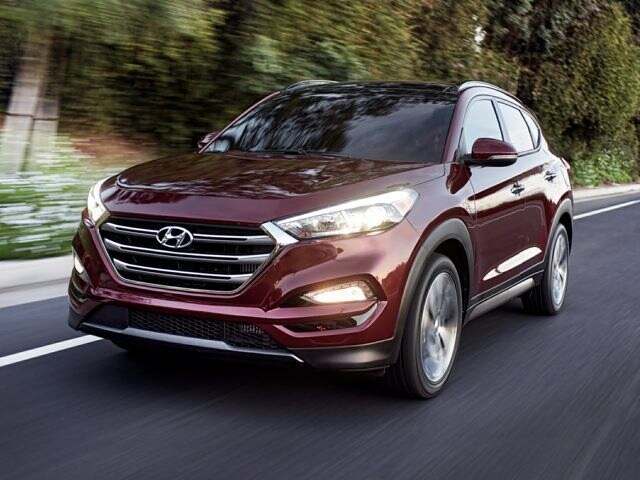 The
2017 Hyundai Tucson
is a beautiful, fully loaded SUV with the safety, technology and cargo space you wanted in your next vehicle. Add in Waikem's great every day low price and you'll have a hard time finding a better one for your driveway.
Built for power and performance
The
Tucson
is a great combination of power, performance and efficiency. The optional 1.6L turbocharged engine produces up to 175 horsepower and up to 32 highway miles per gallon. The Tucson is built for all weather seasons with optional all wheel drive and 19 inch alloy wheels. Add in the active corning control, and the vehicle will transfer power between the front and rear wheels and even side to side, to ensure the engine's power is always being sent to the wheels with the most grip.
The Tucson has an optional 7-speed, automatic, dual clutch transmission. It works in tandem to create instantaneous gear shifts and boosts fuel economy. The Tucson is also offered with driver select Eco, Sport or "Normal" driving modes that automatically adjusts to your driving scenarios. If you need more power and performance, choose sport mode, if you're trying to save gas, choose the "Eco" mode, and if it's normal city driving, use that "normal" mode.
The standard engine option is a 2.0L direct-inject 4 cylinder engine that produces 30 highway miles per gallon and up to 164 horsepower. Other standard options include hill start assist control and downhill brake control.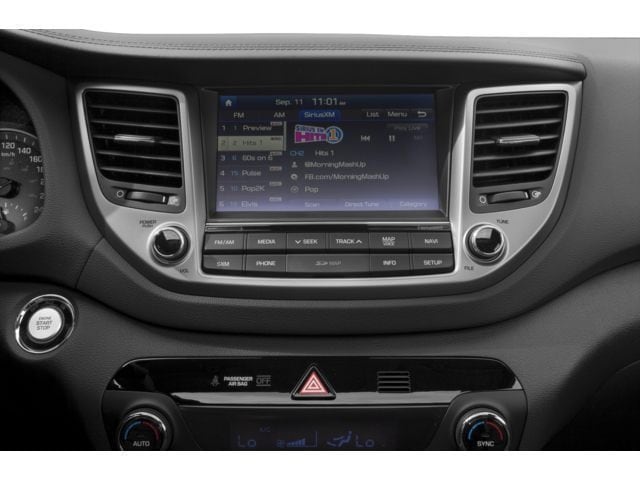 Loaded with Technology
The
Hyundai Tucson
is a tech marvel with all the innovative features of the modern vehicle. First off, every Tucson comes standard with a backup camera to safely and easily get in and out of tight spots. It also has standard USB and Auxiliary ports that keep your phone charged and make it easy to stream the songs and podcasts from your phone over the speakers. Each Tucson also comes standard with Bluetooth for hands-free calling.
As you climb the trim levels, the Tucson adds options like navigation and keyless push button ignition. This year's Tucson also adds Apple CarPlay and Android Auto as optional features. These systems are the best way to use your phone's capabilities inside your car.
With Apple Carplay and Android, you can make and receive hands-free phones, send text messages with your voice and hear text messages read over the speakers. They also hook up to you Apple or Google Maps for turn-by-turn directions.
You can also hook up to your favorite apps like Podcasts, Audiobooks, iHeartRadio, Pandora, Spotify, Stitcher, NPR One, Kik, Skype, Tunein and others.
Hyundai Blue Link
Hyundai's
optional Blue Link Service provides even more phone-to-car communications. With an app available on phones and smart watches, Blue Link can start or stop the vehicle remotely, control the climate control system, and even help you find your car in crowded parking lot.
Hyundai Blue Link also includes options like Geo Fencing, Speed Alert and Curfew alert, all great for those with teenage drivers. You can set the area where your teen should be driving, how fast the top speed should be and what time the car should be parked in the driveway. If any of these are violated, you get an instant text message notification, keeping everyone safe and secure on the daily drive.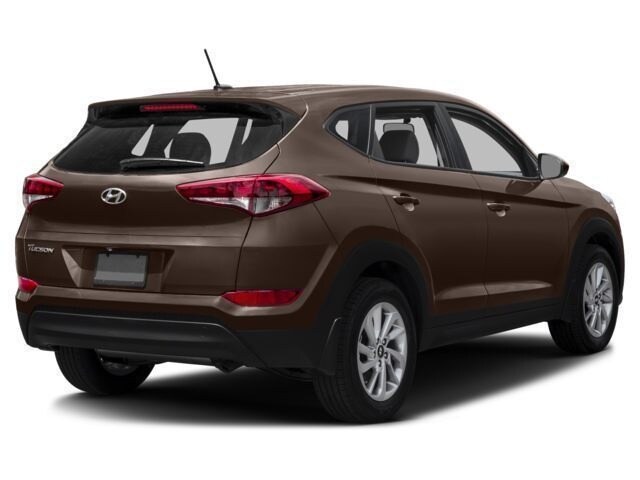 Other Innovations
The
Tucson
is built for families with an easy to use hands-free lift gate. Just approach the vehicle with your keys in your pocket, and the lift gate opens automatically. Every Tucson has stain resistant fabrics, so if you or a passenger spills a drink on the seat, clean up is easy and it won't leave any stains.
The Tucson has enough cargo space for a long weekend road trip, but it's also really easy to fold down the rear bench seat and create extra cargo room when necessary. The Tucson is considered one of the best vehicles for traveling with families or pets.
Some of the other comfort options available on your new Tucson include heated leather seats, dual panel panoramic sunroof, leather steering wheel, power driver's seat, and auto dimming rear view mirror.
America's Best Warranty
The
Tucson
also comes with America's Best Warranty, a 10-year, 100,000 mile limited powertrain warranty, five-year, 60,000 mile new vehicle limited warranty, and five years of unlimited roadside assistance.
The Hyundai is available in eight exterior color choices and five interior color or fabric options.
Safety Technology
Few vehicles combine safety and technology better than the Hyundai Tucson. Hyundai expects it to be an IIHS Top Safety Pick Plus thanks to Automatic Emergency Braking. This system is like having a guardian angel watching over you. When it detects a collision, the AEB system will engage the brakes, preventing collision. That's just the start of things though as the Tucson also comes with Lane Departure Warning, Blind Spot Detection, Rear Cross-Traffic Alert, Lane Change Assist, Backup Warning Sensors and even a standard backup camera. The modern Tucson is even covered with 50 percent more high-strength steel than previous versions for enhanced crash safety.
Save the Waikem Way
At
Waikem
, it's easy to park a new Tucson in your driveway. We offer Waikem Discounts and Factory Rebates for the area's best price on new Hyundai models. Plus when you choose to purchase a new Tucson from Waikem, you're choosing a family owned and operated dealership that has been in this community for more than 50 years. The Waikem name is on the store and there's a Waikem in every showroom, every day. It's no surprise then that we have so many five reviews on both Google and Facebook.
Plus Waikem's sales and management staff has more than 100 years combined experience in the automotive industry. When you buy a car from Waikem Hyundai, you're working with experts and professionals who give you a fair and respectable car buying process.
Don't wait another day before you put the new Tucson in your driveway.
Contact us now
, or
view our inventory
to see how it's the perfect vehicle for your daily commute.