The
2018 Hyundai Santa Fe
is a third-row SUV with room for 7 to fit comfortably. It's built for family road trips thanks to great power and comfort options. Add in a spacious interior, ample trunk space and available all wheel drive, and we think the Santa Fe is an excellent choice for those looking for a people mover.
Editor's Note: If you're looking for the five-passenger Hyundai Santa Fe Sport review, please read it here.
Third-Row SUV
The
Santa Fe
is one of the most affordable third-row SUVs on the road today. You chose between captain's chairs or a second row bench to fit either six or seven people inside. There's plenty of room in the Santa Fe for everyone to stretch their legs out, although we'll suggest kids in the third row for maximum comfort.
With all the seats up, there's 13.5 cubic feet of trunk space. If you don't have a full house and need the extra storage space, the Santa Fe maxes out at 80 cubic feet. It's easy to fold down the rear seats and create that extra cargo space when necessary.
The
Hyundai Santa Fe
offers more interior volume than the Dodge Durango, Toyota Highlander and Mazda CX-5. The Santa Fe has more third row legroom than the Toyota Highlander, Mazda CX-9 and Nissan Pathfinder.
Performance
The Santa Fe is available with front wheel drive or
all wheel drive
at all trim levels. The all wheel drive system in your new Santa Fe is the perfect way to safely travel in an Ohio winter. In the summer, it's the ideal road trip car. Families that like to hike, camp, fish or canoe often say the Santa Fe is one of their favorite SUVS.
Under the hood the
Santa Fe
has a 3.3L V6 engine that produces 290 horsepower. Front wheel drive is standard and all wheel drive is available at all trim levels.
The Santa Fe maxes out at 25 highway MPG.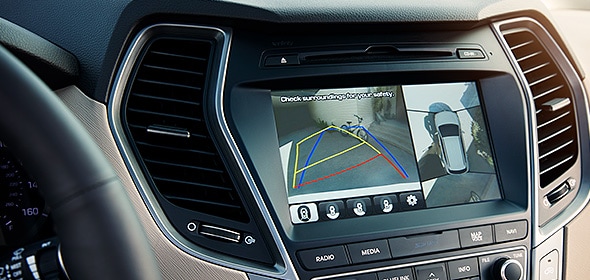 Safety Technology
The Santa Fe is an IIHS Top Safety Pick Plus, and technology helps make it one of the safest SUVs on the road today. The following safety options are available on the Santa Fe:
Automatic Emergency Braking with Pedestrian Detection – Your Santa Fe senses vehicles and pedestrians in your path and automatically initiates your brakes
Smart Cruise Control – Set a safe driving speed, and your Santa Fe will automatically slow down to maintain a safe distance from the vehicle ahead.
Blind Spot Detection – Provides audible and visual alerts if a vehicle is detected in the driver's blind spot.
Dynamic Bending Lights – Your headlights moved in sync with your vehicle to safely see road lines and more.
Lane Departure Warning – Let's you know when your vehicle is drifting out of its driving lane without signaling.
Rear Cross Traffic Alert – Similar to Blind Spot Detections, rear-cross traffic alerts warn the driver of vehicles approaching from the side.
The Santa Fe comes standard with a backup camera. You can upgrade to a multi-view camera that gives you a full 360-degree view of everything happen in front, to the sides and behind you when you're backing up. It's never been easier to get in or out of a tight spot with a large SUV.
Comfort Tech
Technology also keeps you and your passengers entertained on the daily drive. There are multiple USB ports in every row, so everyone's phone stays charged.
The Santa Fe comes standard with Bluetooth, Apple CarPlay and Android Auto. It's never been easier or safer to make and take a hands-free call. Plus it will read your text messages over the phone and you can send text messages with your voice, just like Siri, OK Google or Amazon Alexia.
Hyundai Blue Link
Hyundai ups the technology ante with the Blue Link Services. Use your Smartphone, smartwatch, or systems like Amazon Alexa and Google Home to remotely lock doors, start the vehicle, or save locations for your next road trip.
Hyundai BlueLink also includes options like Geo Fencing, Speed Alert and Curfew alert, all great for those with teenage drivers. You can set the area where your teen should be driving, how fast the top speed should be and what time the car should be parked in the driveway. If any of these are violated, you get an instant text message notification, keeping everyone safe and secure on the daily drive.
Comfort Options
Comfort options available on the Santa Fe include heated leather seats, sunroof, hands-free liftgate, power driver's seat, and rear sunshades.
America's Best Warranty
At
Waikem
, it's easy to put a new Hyundai Santa Fe in your driveway. We offer the area's best price on new Santa Fe models, and with our large inventory, we always have the one you're looking for. When you chose to purchase from Waikem, you're choosing a family owned and operated dealership that is still owned and operated by the Waikem family, just as it has been more than 60 years.
So
view our inventory
or
contact us
to learn about the Santa Fe. Bring in the entire family and let them see why it will be the vehicle that makes a lifetime of family memories.