Waikem Hyundai is a new and used car Hyundai dealership located in Massillon, Ohio. Our dealership is centrally located in Stark County, Ohio, five minutes from major cities like Canton, Massillon, North Canton, and Jackson Township. 
Stark County's Largest Family-Run Dealership
We're a family business, through and through. The Waikem family has owned Waikem Hyundai since day one. You shop local for food and clothes, and you eat at locally-owned restaurants, shouldn't you shop local for your next new and used car. There is a Waikem in every store every day. You're more than likely going to meet a Waikem when you visit our store. 
Experienced Staff
David Sams
Service Director

Don Warner
Hyundai Sales Manager
The people make the difference at Waikem Hyundai. Our sales manager Don Warner has been employed with the Waikem Auto Family for more than 25 years. 
Don is also a proud father and grandfather. When you meet directly with Don Warner, you'll see plenty of pictures of his children and grandchildren. Our assistant manager Bill Ewing has a lot of experience in the automotive industry, and he is excited to join the Waikem Hyundai team. Bill has a great eye for preowned vehicles, and the selection has never been better at Waikem Hyundai. 
The sales staff at Waikem Hyundai is our most experienced staff at any store. All of our employees have years of experience selling new and used Hyundais, so you're going to work with experts who are trained and very knowledgeable about every new Hyundai model.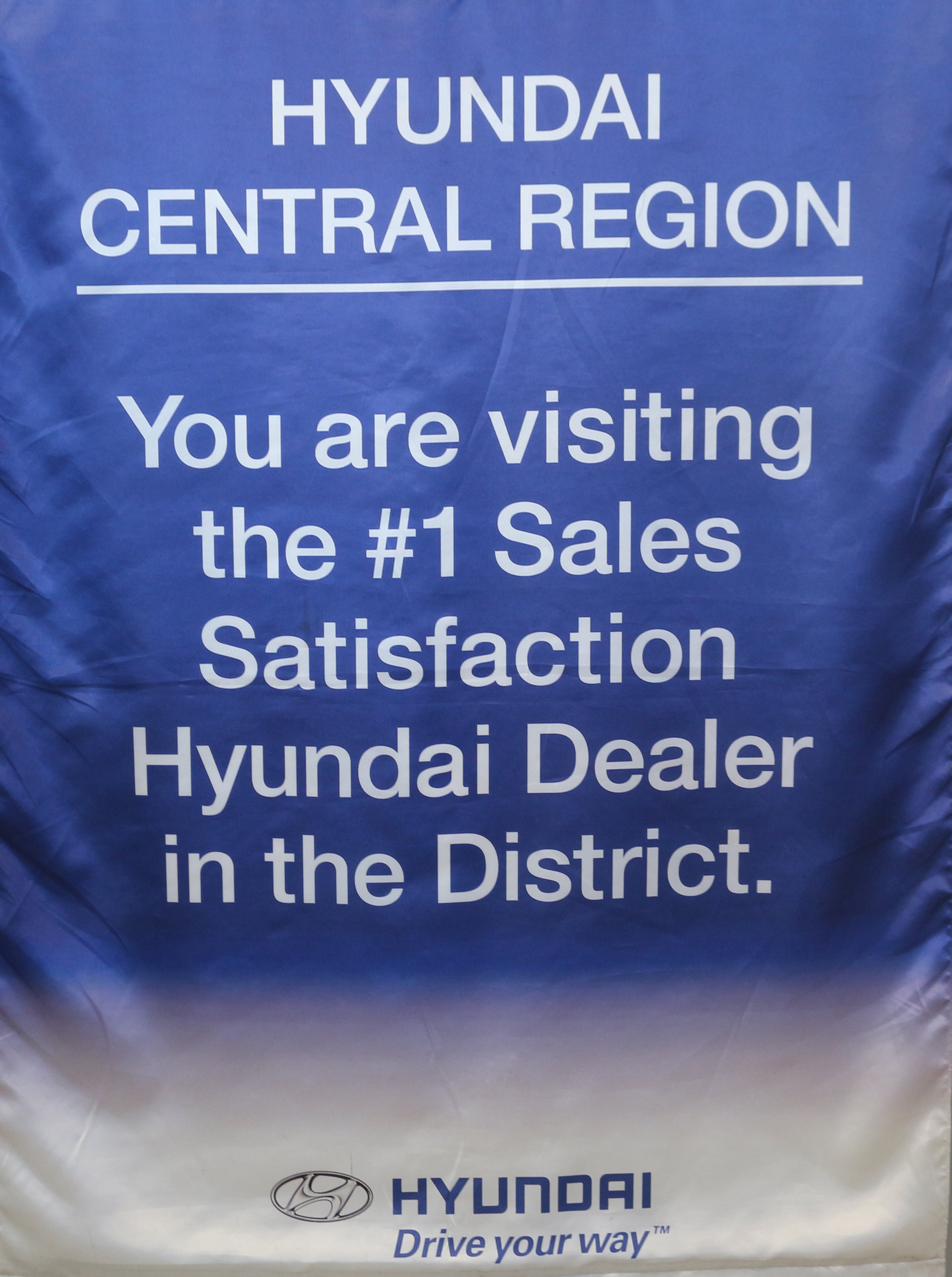 This year Hyundai Central Region recognized us for being the No. 1 Sales Satisfaction Hyundai Dealer in the district. That means that out of hundreds of Hyundai dealers in the area, none had more satisfied customers than Waikem Hyundai. 
Waikem Hyundai has previously won the Hyundai President's Award for customer satisfaction. Our dealer is also the current two-time winner of the Canton Repository's Reader's Choice Award for Best Employer, Best Automotive Service Department and many other awards.
The Waikem family was recently featured in major finance publications including the Wall Street Journal, Fox Business, Yahoo Finance and Time Magazine.  We were also on a recent cover of Dealer Innovation magazine, because the Waikem Family is recognized as one of the leaders nationally in the Automotive Industry.
Waikem Hyundai has an A-Plus Rating with the Better Business Bureau, and near-perfect scores on review sites like Google Plus, Facebook and Dealer Rater. Let our experienced sales and service departments show you why everyone leaves happy at Waikem Hyundai.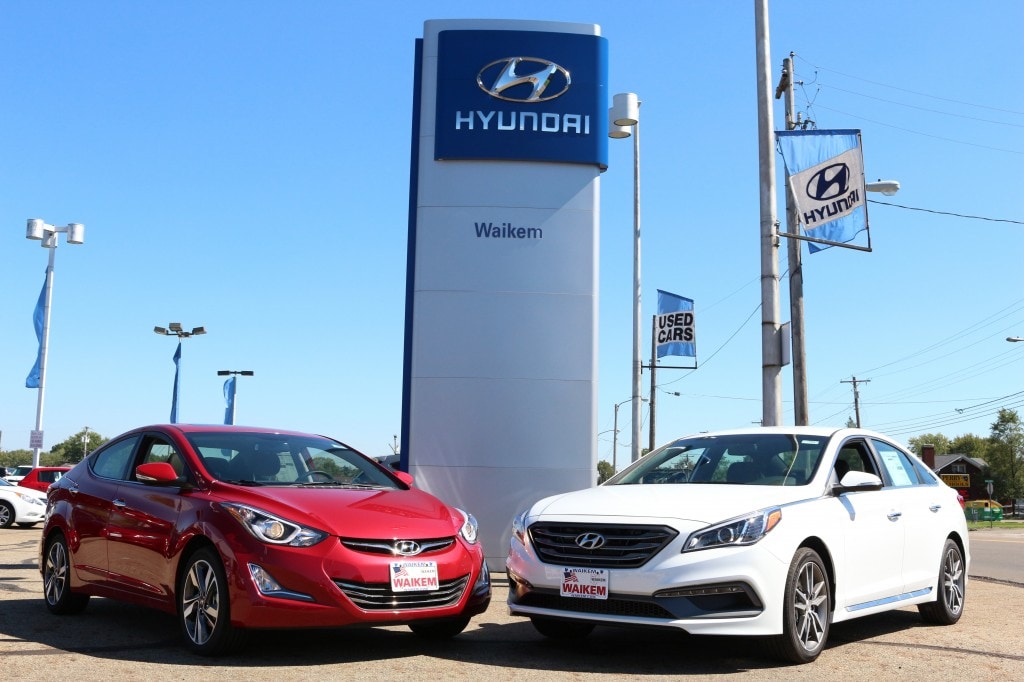 Huge Inventory
There's more than 100 new Hyundais for sale every day at Waikem Hyundai. And with access to a large database of Hyundais nation-wide, we'll make sure you get the exact vehicle you want. We've driven all the way to Montana before to get a customer the exact color combination he wanted on his new Hyundai Santa Fe. 
Our sales staff also has access to sell any of our 400 preowned vehicles. With such a wide selection to choose from, there's sure to be the perfect preowned vehicle for you. Many of our used Hyundai models carry the popular Hyundai Certified Preowned Warranty. A Certified Preowned Hyundai comes with the remainder of a ten-year, 100,000 mile warranty, along with roadside assistance and a 150-point quality assurance program. 
Innovative Online Process
Buying a car or scheduling an automotive service appointment online is so easy at Waikem Hyundai. Our Internet Sales Process is considered the best in the business by automotive experts. We've been selling cars online since the mid-1990s, so we're light years ahead of the competition in making sure you have the best online shopping experience. 
It's an up-front process where you know from day one exactly what you're going to pay for a new Hyundai. It's a no-hassle sales process, and our team works at the dealership and only works for Waikem Hyundai. That way you get a real, prompt response to a question, not something that was written by a robot in some marketing lab. 
When you are ready to visit Waikem Hyundai, you're going to meet directly with sales managers Don Warner and Bill Ewing. That way you bypass the up-front sales process and move right to the front of line. That ensures you'll get the savings and ensures the inventory. 
And we offer an easy online scheduling tool to make it quick and easy to schedule an oil change, car repair or anything else that you need to keep your vehicle in tip-top shape. 
Giving Back
Our local pride shows in our charitable endeavors. We're  proud to support programs like Hyundai Hope on Wheels. In fact, a portion of every new car sold at Waikem Hyundai goes directly to Hyundai Hope on Wheels, a national campaign to help fight Pediatric Cancer. 
We work with many great charities like Pathway Caring for Children, Great Strides, Perry Helping Perry, Perry Rotary Club, Massillon Lions' Clubs, Stark Parks, the Stark County Library and more. 
We invite you to join our family at Waikem Hyundai. In a world where customer service has been replaced by big-box store corporations, we're still a family-owned and operated business that does things the right way. 
Contact us to learn how we can make your next Hyundai sales or service experience the best you've ever had. Thanks for considering Waikem Hyundai in Massillon.